Relocatable Homes
Are you looking for a change in lifestyle? Are you looking for a safe and quiet environment with a strong community base? Are you tired of maintaining a large house and are looking for an easier alternative. Then a relocatable home may be the answer for you. Our limited permanent relocatable section can offer you this chance. Have you ever dreamt of designing your dream home but have been deterred by the expensive land prices? Well perhaps this is the solution for you.


Our park offers a stunning setting for your dream home. With the surrounding mountains creating a stunning back drop. Our large well positioned sites will always afford you a feeling of space and openness. Easy to maintain, these homes have become increasingly popular and are a more affordable option for many. If you are interested please do not hesitate to contact our office for further information.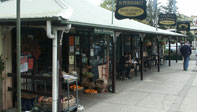 Kangaroo Valley
Set against an amazing mountain backdrop, the lush and green  Kangaroo Valley has something to offer all …more>
For Sale
There is currently no homes for sale.